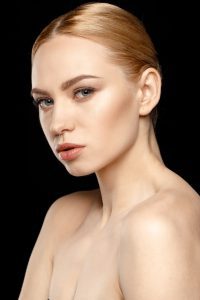 Rhinoplasty, or nasal surgery, involves reshaping the nose for either functional or cosmetic reasons. After surgery, most Dallas patients will need to wear a nasal splint and dressing to keep their nose in the right position for healing.
The Effect of Your Nasal Dressings on Sleeping Position
Dallas patients who undergo rhinoplasty often ask if a certain sleeping position will affect their result out of fear of jeopardizing their results. While it does help you to some extent, there is no evidence that changing position will affect your outcome. At least, not noticeably.
It Helps to Sleep on Your Back
Sleeping with your head propped up on pillows can help reduce swelling and relieve any congestion that you're experiencing after rhinoplasty surgery. Most patients benefit from sleeping on their backs because they breathe better – similar to the way that it helps to prop yourself up with pillows when you have a cold. Sleeping propped up also prevents blood from collecting and causing your nose to bruise and swell.
If You Roll Over Your Rhinoplasty Results Will Not be Ruined
The point of a surgical dressing and nasal splint after rhinoplasty is to protect your nose from shifting while it heals. While you may feel uncomfortable if you turn to your side or stomach while you sleep, it is very unlikely to affect the results of your rhinoplasty. Even if you wake up with your nose pressed against the pillow.
The only downside is that you may experience more swelling and bruising, and more discomfort, as you heal. So when you go to sleep, try to stay on your back but don't worry if you wake up in a different position.
To schedule your rhinoplasty consultation, call our Dallas office at 972.774.1777.