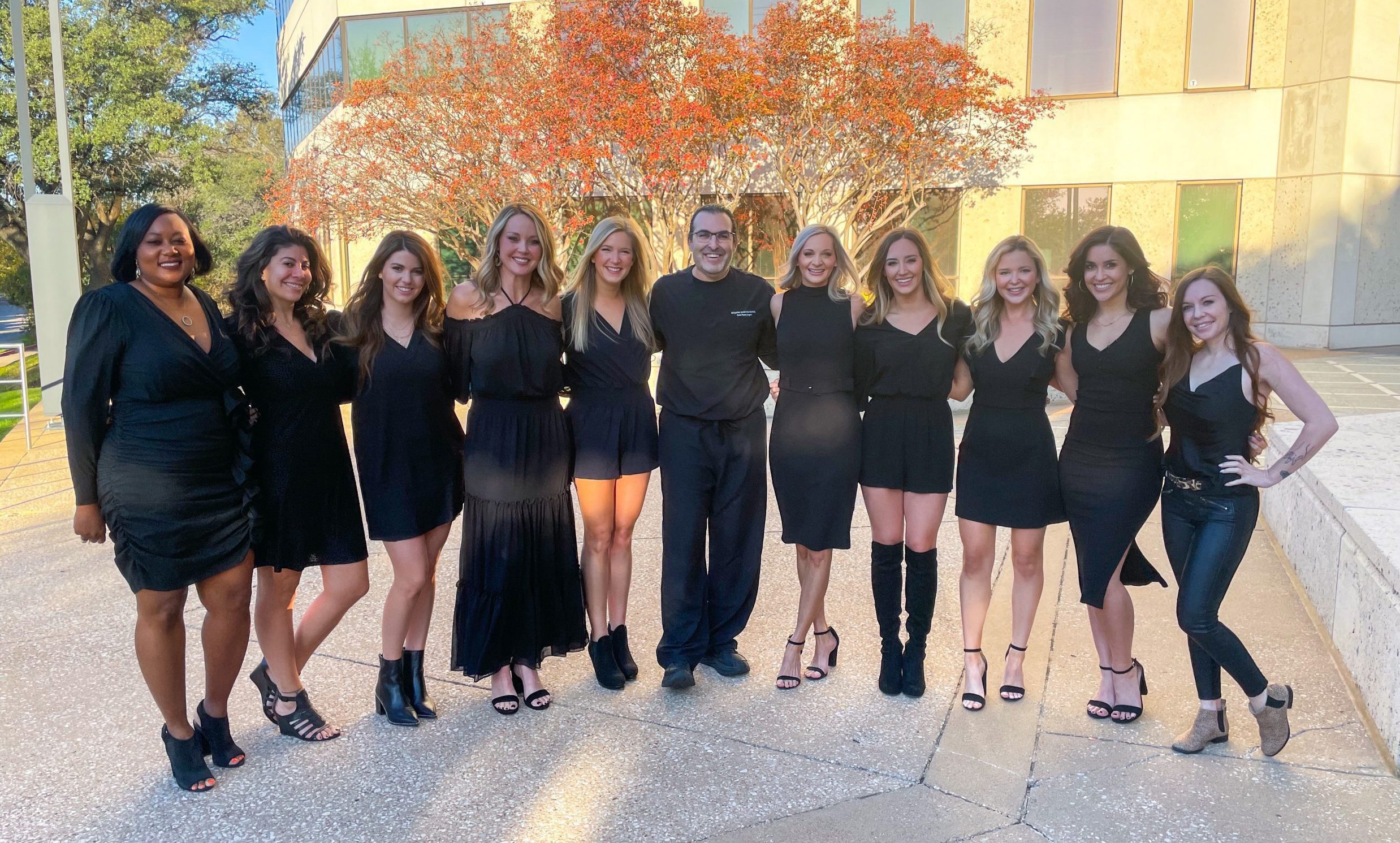 At ADVANCED, we are so blessed to have our A-list, Amazing, A+ ADVANCED staff. We know you will enjoy getting to know them all as they take wonderful care of you. We love our ADVANCED team.
MICHELLE MANTEL BASSICHIS MD
Medical and Design Consultant / Clinical Research Director
Michelle Mantel Bassichis, MD – also known as "Mrs. Dr. Bassichis"– is a Harvard-trained physician who devotes her professional and creative skills to the ADVANCED Facial Plastic Surgery Center. From web design and marketing, event planning, and interior design, to patient education and human resources, Michelle is the behind-the-scenes, jack-of-all-trades, "yes girl" at ADVANCED. As well, "Mrs. Dr. Bassichis" coordinates the highly respected Clinical Research program for the ADVANCED Facial Plastic Surgery Center. Outside the practice, she is dedicated to several philanthropic causes, but most importantly, she is responsible for the care, education, and adoration of the three Bassichis kids as well as the canine and equine family members.
MICHELLE'S FAVORITE PRODUCTS: Revision Intellishade TruPhysical & Jane Iredale Lip Drink
JULIE
Registered Nurse
Julie is originally from Hereford in West Texas but now enjoys Plano as her home. Upon graduating from the University of Texas-San Antonio with a bachelor's degree in Biology, Julie honed her patience and education skills as a high school teacher and coach. After marrying her (very lucky) husband, Julie followed her passion for education back to Nursing School. As gorgeous as she is compassionate and intelligent, Nurse Julie worked at Parkland as well as a Surgery Center until she met Dr. Bassichis and Dr. Scalfano. We are so blessed that this talented clinician and empathic caregiver has joined our ADVANCED family. When she isn't kindly answering all of our patients' questions, Julie loves spending time with her husband and two beautiful young children!
JULIE'S FAVORITE PRODUCTS: Alastin Regenerating Skin Nectar & Epionce Renewal Cream
KENZIE
Registered Nurse
Nurse Kenzie was born and raised in Abilene, Texas, where she received her Bachelor of Science in Nursing from Abilene Christian University. With her previous experience as an Emergency Room nurse and as a CNA on the Cardiac Floor, Kenzie doesn't skip a beat in fast-paced environments. Her passion for taking wonderful care of patients and helping people feel confident in their own skin led her to join our amazing ADVANCED team! When she isn't at work brightening up the ADVANCED office, you can find Kenzie kickboxing or spending time watching "Scrubs" with her husband and adorable golden retriever, Graham.
KENZIE'S FAVORITE PRODUCTS: Pro Heal Vitamin C Serum & Alastin HydraTint Sunscreen
MEREDITH
Registered Nurse
Our Mississippi sweetheart, Meredith, moved to Dallas three years ago after earning her Bachelor of Science in Nursing from Mississippi College. She started her nursing career working in the cardiovascular intensive care unit at Baylor Scott and White Heart and Vascular Hospital, before transitioning into the medical aesthetics field. She is known for lighting up a room with her joyful and kind spirit and making her patients feel relaxed and comfortable. Outside of the clinic, she can be found running at White Rock Lake with her husband, taking her Goldendoodle to the park, and exploring all that Dallas has to offer with her friends and family.
MEREDITH'S FAVORITE PRODUCTS: SkinCeuticals C.E. Ferulic & ZO Exfoliating Polish
BROOKE
Registered Nurse
Born in Singapore, Brooke spent her early childhood in Asia before moving to the States. She first attended Texas A&M University where she earned a Bachelor's Degree in Allied Health, and then went on to receive her BSN at the University of Oklahoma. Brooke has gained valuable experience working in the NICU at Parkland Hospital and as an infusion nurse at Texas Oncology in Dallas. When she isn't working, Brooke loves going out to eat and trying new foods with her husband and friends.
BROOKE'S FAVORITE PRODUCT: Alastin HydraTint Sunscreen
JEANETTE
Licensed Medical Aesthetician
Born and raised a native New Yorker, we are so grateful Jeanette made her way down to Texas to join our ADVANCED team. Her background in the medical field started 15 years ago in pharmaceutical sales when she found her passion for great skin care. While educating clinicians about prescription dermatology products, Jeanette's interest in the science of skincare and her gracious people skills led her to seek additional training in the aesthetic industry. Now a Licensed Medical Aesthetician, Jeanette utilizes her combined scientific and aesthetic knowledge to help her patients achieve healthy and radiant skin. Following each of her amazing medical spa treatments, Jeanette takes the time to educate her patients on proper skincare maintenance to develop and upkeep their beautiful results. In her spare time, Jeanette loves spending time with her husband, three beautiful kiddos, and their spunky pup, Wells.
JEANETTE'S FAVORITE PRODUCTS: Biopelle Tensage Intensive Serum 40, Jane Iredale Powder Me SPF & Alastin Regenerating Skin Nectar
DELISA
Licensed Medical Aesthetician
Delisa is our brilliant aesthetician and skincare professional who has been an invaluable member of our ADVANCED team since 2005. With her background in fashion design and art, Delisa is highly attentive to even the subtlest details in skin and beauty. Though Dallas is her hometown, Delisa has lived in England, New York City, Montreal, and Kansas. Living around the world has opened her eyes to different cultures, giving her a sense of worldliness and respect for diversity that is evident in Delisa's graceful and therapeutic touch. Delisa's skilled knowledge in skincare is matched by the genuine compassion she has for her patients. She works intentionally with each patient to help them achieve the best results possible. In her spare time, Delisa enjoys spending time with her wonderful family and friends.
DELISA'S FAVORITE PRODUCTS: The Entire Alastin Line, ADVANCED Cleanser & Epionce Intensive Nourishing Cream
MALLORY
Patient Care Coordinator
Originally from Iowa, Mallory made her way to Dallas after earning both her bachelor's degree in Apparel Merchandising from Iowa State and her Cosmetology License. She first worked in the field of home health as an office manager before deciding to follow her passion for aesthetic medicine and joining our ADVANCED team. Our patients love Mallory for her witty and fun personality and the intentional time she takes to make each patient feel truly cared for. As a leader of our Patient Care team, Mallory is the main point of contact between our patients, Dr. Bassichis, and our aesthetic team. She ensures that our patients' questions are answered and that they are always receiving the best care possible. She loves her ADVANCED teammates and we love her right back for the positive work environment she encourages and creates! In her spare time, Mallory enjoys spending time with her family; her husband, sassy two-year-old daughter, and two fur babies.
MALLORY'S FAVORITE PRODUCTS: ZO Complexion Renewal Pads & SkinCeuticals Phyto Corrective Gel
ANNA
Patient Care Coordinator
Anna is an Arkansas girl with Hungarian roots. She attended the University of Arkansas where she earned a Bachelor of Science in Biology. A true jet setter, she spends her summers traveling to Europe to visit family and explore different countries. When she isn't working or traveling, Anna loves to run, cook, and spend time with friends! You can also find her instructing high-energy spin classes at CycleBar in the evenings.
ANNA'S FAVORITE PRODUCTS: ZO Exfoliating Polish & ISDIN Instant Flash
TAYLOR
Patient Care Coordinator
Born and raised in Houston, Taylor is the newest member of our team! Taylor earned her degree from Texas State University in General Studies which consists of Psychology, Public Health & Health Communication. Before joining our Advanced team, she was previously a full-time substitute teacher and a mental health technician for a children's psychiatric treatment center. Taylor's passion for skincare and quality patient care brought her to us, and we are so grateful to have her. Outside of work you can find her exploring her new home city, shopping for sneakers, or diving into another book.
TAYLOR'S FAVORITE PRODUCTS: Epionce Enriched Body Cream & Elta MD UV Clear Tinted Sunscreen
JENNIFER
Licensed Laser Technician
Jennifer is a licensed aesthetician with over 20 years of experience in the skin care and beauty industry. She has had several publications in magazines and medical journals, including a feature in New Beauty Magazine, and numerous television appearances including Shopping is my Cardio, Best Docs Network and Meet the Doctors. Jennifer's true passion lies in optimizing the way her patients view themselves. With her extensive experience and continued education in medical aesthetics, Jennifer thrives by helping patients reach and maintain their skincare goals. Jennifer works alongside Dr. Bassichis to treat many skin care concerns including anti-aging, acne, scar revision, hair removal, and balancing overall skin tone and texture. She specializes in PicoSure, IPL Photo-Rejuvenation, Hair Removal, and Laser Resurfacing. Our ADVANCED patients love Jennifer for her upbeat and sincere nature, which allows them to feel comfortable expressing their concerns and work together to develop a treatment plan customized to their lifestyle. Outside of skincare, Jennifer enjoys spending time with her free-spirited 10-year-old daughter and delights in the outdoors. She practices a healthy and active lifestyle, has a passion for art, and is a collector of vintage clothing and antiques.
JENNIFER'S FAVORITE PRODUCTS: Revision Intellishade TruPhysical, ZO Exfoliating Polish & ZO Daily Power Defense
NASTASSIA
Medical Billing & Insurance Specialist
A true southern sweetheart, Nastassia is originally from Mississippi and eventually made her way to the great state of Texas and joined our Advanced team. With over 12 years of billing experience, Nastassia knows all of the ins and outs of medical billing and insurance verification. She is also the author of her personal blog on budgeting and financing; she can teach all of us a thing or two! Nastassia has the most selfless heart and incredible work ethic; she consistently goes out of her way to help answer questions for our patients. When she isn't in the office crossing our T's and dotting our I's, Nastassia enjoys reading, traveling, fishing, and spending time with her beautiful family.
NASTASSIA'S FAVORITE PRODUCTS: Epionce Renewal Facial Cream & Epionce Enriched Firming Facial Mask