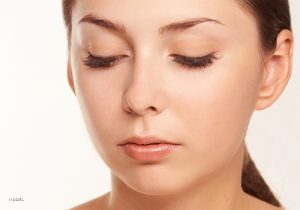 Ask Dr. Bassichis about rhinoplasty surgery, and he'll tell you the truth – no two rhinoplasty surgeries are alike. Many Dallas men and women seek out his skill to address a variety of issues of the nose, whether they be cosmetic or functional, meaning they are issues that interfere with breathing.
Commonly, patients visit Dr. Bassichis for an initial rhinoplasty surgery consultation to ask if the surgery can address their nostrils, often desiring to make them smaller when potential patients feel their nostrils are too wide. This is definitely something that Dr. Bassichis can address with this elective plastic surgery procedure.
Reducing Nostril Size with Rhinoplasty Surgery
While you may think that reducing the size of wide nostrils is a relatively easy procedure, it's actually something that requires a careful patient evaluation, an individualized treatment plan, and a lot of skill and technique.
Dr. Bassichis' Approach to Reducing Nostril Size
While Dr. Bassichis understands that Dallas residents with wide nostrils may want to significantly reduce them, he cautions them to be conservative with their goals. That's because flaring nostrils are a common facial expression, and you don't want to lose normal facial expressions and functionality just because you've had plastic surgery. You want your results to look natural, and make you look like the best version of you. That's why Dr. Bassichis works so hard on compiling an individual treatment plan for you and explaining what you might expect your results to look like.
The Actual Surgery
During your nostril reduction rhinoplasty surgery, Dr. Bassichis will create an incision in the crease of the nose – where your nostrils meet your cheeks. From here, he'll remove a wedge of the nostril wall. The incision will then be sutured (stitched up). Depending on your desired results that you have pre-communicated with Dr. Bassichis, your incision shape may be:
Triangular
Rectangular
Diamond-Shaped
Typically, your nostril reduction rhinoplasty incision is hidden in the crease of your nose so that you won't have any obvious scars. Nostril reduction may also make your nose appear smaller and narrower.*
Your Recovery Process
All surgeries have a recovery process, and rhinoplasty surgery is no different. Usually, when you get your nostrils reduced, you'll return to Advanced Facial Plastic Surgery Center to have your stitches removed. You'll likely experience redness in the treatment area for the first two weeks post-op, as well as swelling for the first three weeks after your surgery. This is normal and to be expected. You can resume your normal day-to-day activities the day after your nose reduction rhinoplasty surgery, though many Dallas patients prefer to take two weeks off from social activities, including work or school, while they recover.
Schedule Your Nostril Reduction Rhinoplasty Surgery Consultation Today
If you're uncomfortable with the size of your nostrils, Dr. Bassichis of Advanced Facial Plastic Surgery Center can help! Schedule an appointment to meet him today for an initial consultation to discuss how you can get the nose of your dreams.
The appointment can be made by contacting his office in Dallas at (972) 774-1777.
*Individual results may vary