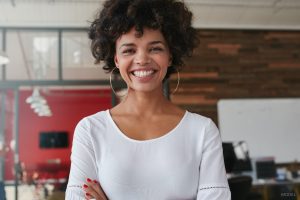 During some of his facelift consultations with Dallas patients, local facial plastic surgeon Dr. Bassichis sometimes interacts with men and women who also have concerns about the appearance of the neck. You see, the neck isn't spared from the aging process. Additional factors, such as sun exposure, can also cause your neck to sag, lose it's once slimmer contour, thicken up, and the neck muscles can even weaken and become band-like.
As a facial plastic surgeon, Dr. Bassichis is especially qualified to perform neck lift surgery on Dallas patients. But how do the two procedures differ? Read on to learn more.
How a Facelift is Performed
To make the mid and lower face appear more youthful, Dr. Bassichis makes incisions in your hairline on both sides of your face. The incision begins above your ear, then down and around the back of the hairline.
From these hairline incisions, Dr. Bassichis has ample access to your underlying facial structure to remedy the following common signs of aging on the face, including
Wrinkles
Lost facial volume, such as sunken cheeks
Facial drooping and sagging
If you have jowls around your chin, Dr. Bassichis can also make an incision underneath your chin during your procedure to remove that extra skin.
The Difference in How a Neck Lift is Performed
Though some Dallas patients combine facelift and neck lift surgery into one surgical event, a neck lift is distinctly different.
First, a neck lift involves a variety of surgical techniques, including:
Using minimally invasive endoscopic surgical techniques to remove excess neck fat and tighten up loosened neck muscles
Surgically removing excess neck fat and skin
Repositioning the neck muscles to provide a more aesthetically pleasing contour
Performing neck liposuction to remove small fatty pockets in the neck
In addition to the above surgical techniques, some Dallas neck lift patients have non-surgical fractional CO2 laser resurfacing to improve the look of their necks.
A Chin Implant – A Common Surgery Combined with Neck Lifts
Neck lifts also differ from facelifts in that sometimes, Dallas patients combine a chin implant to their surgical treatment plan. This is done to improve your overall contour and appearance, including reducing the size of a neck that looks thick or heavy.
Which Procedures Are Right for You?
While the best way to determine which procedures are right for you is to consult with Dr. Bassichis, here are some general guidelines to help educate you on when each individual surgery may be warranted:
A facelift is often recommended if you have wrinkling or sagging skin in your mid to lower face, hollowed cheeks, or jowls hanging from your chin
A Neck lift is usually a good plastic surgery choice if you have a neck that seems too thick for the rest of your body, is showing signs of aging (sometimes even before your face does), is wrinkled, or has the appearance of a "turkey neck"
A chin implant is warranted if you want to modify the appearance of your chin, or if you want to accentuate the contours of your neck and face by having a chin implant accentuate your facial features
Why Choose Dr. Bassichis for Your Facial Plastic Surgery?
Dr. Bassichis knows there are a variety of plastic surgeons in our area who perform facial plastic surgery. But many of them also perform other procedures on the body, such as breast augmentation and tummy tucks. Dr. Bassichis works exclusively on enhancing facial features, so he's uniquely qualified to help you with any problem area on your face or neck with which you are concerned.
Schedule a Facelift Consultation Today
To meet with Dr. Bassichis to discuss your facial and neck problem areas and desired outcomes, schedule an initial consultation with him at Advanced Facial Plastic Surgery.
Contact our Dallas office to schedule your facelift at (972) 774-1777.