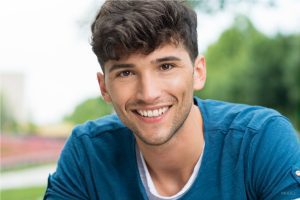 If you're a Dallas teen and you either don't like the shape or size of your nose, or you have trouble breathing, you may be wondering if you're old enough to have Dr. Bassichis of Advanced Facial Plastic Surgery perform rhinoplasty on you. Or perhaps you're a mom, dad, or guardian, and your teenage son or daughter has been asking for the surgery. Is a teen old enough to get a nose job? What exactly is the ideal age for getting a nose job?
Age Minimums for Rhinoplasty
Getting a nose job must be delayed until the patient's nose has finished growing. For girls, this is typically around age 15 or 16. For boys, waiting until age 17 is generally recommended. But when it comes to teens and nose jobs, additional factors need to be considered.
After Reaching the Minimum Age for a Nose Job, a Teen Needs to Demonstrate Having Enough Emotional Strength for Such a Life-Changing Procedure.
Any Dallas patient who chooses cosmetic rhinoplasty – that is a cosmetic surgery that is aimed at changing the appearance of the nose – needs to be prepared to look completely different than they ever have before. This drastic change in appearance can be challenging for some local teens, even if they do love the results of their procedure and feel happier and more confident once their nose has fully healed from surgery.
The important thing for parents and teens to consider in coordination with Dr. Bassichis is whether or not the teen is emotionally mature enough to understand the life-changing effects of getting a nose job. They also need to be prepared for the recovery process, which requires wearing a splint typically for 1-2 weeks post-op, as well as having bruising and swelling around the nose and underneath the eyes for a few weeks.
Teens also need to understand that patience is required to see the final results of their surgery. While individual results vary, most Dallas rhinoplasty patients don't see their final results until 1 year after their procedure. And let's face it, a year is a long time for teens in today's fast media culture.
If instead of cosmetic rhinoplasty, a teen desires the procedure to address functional problems with breathing, the cosmetic concerns don't need to be considered. A functional nose job, which typically only addresses surgically altering the internal structure of the nose to improve breathing, doesn't come with the telltale changes the cosmetic nose jobs do.
The Ideal Age for an Adult to Have a Nose Job
If you're an adult desiring a nose job, there's really no target age to have the procedure performed. The key is to schedule the surgery at a time when you're ready for the cosmetic changes (if cosmetic alterations are the reasoning behind having the procedure performed), and that you have at least 2 weeks' time off work or college to take off to recover from your surgery.
Consult with Dallas' Dr. Bassichis Today
Whether you desire a nose job for cosmetic or functional reasons, Dr. Bassichis is ready to help. A local plastic surgeon who exclusively performs facial plastic surgery, he's the smart choice for your nose job surgery.
To schedule a consultation and discuss surgical options, contact Advanced Facial Plastic Surgery Center in Dallas today at (972) 774-1777.