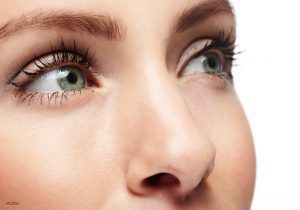 All plastic surgeons, especially Dallas facial plastic surgeon Dr. Bassichis, will tell you that no two rhinoplasty surgeries are the same. Everyone who desires a nose job has a different type of natural nose, and different problem area they would like to address. That's why the surgery is so unique! Here are three of the most common reasons why you may consider getting a nose job.
You Want to Remove a Nasal Hump
Many Dallas residents with a nasal hump on their nose find this natural facial features unattractive. Whether they dislike the way they look head-on or are unhappy with their facial profile, they just want this nasal hump gone for good. Rhinoplasty can help.
To remove an unwanted nasal hump, Dr. Bassichis gently shaves the nasal hump down. After that, he performs a procedure called lateral osteotomy, which is the medical term for breaking your nose. While this may sound like a harsh technique, it is needed when removing a nasal hump so that the nasal bone can narrow, as well as close the open roof that is usually created when a nasal hump is shaved down.
You Have a Naturally Short Nose
Some Dallas residents choose rhinoplasty because they feel their noses are too short for their face. It's actually a very common reason that patients come to Advanced Facial Plastic Surgery Center for a nose job. Depending on your unique situation, Dr. Bassichis can perform one of the following techniques to elongate your nose:
The radix is the upper part of the nose. Depending on your natural nose shape, Dr. Bassichis may choose radix grafting to add more cartilage at the top of your nose, allowing it to "start" higher up your face, giving you the longer nose shape you desire.
Caudal Septal Extension Grafting
Sometimes, patients' noses only look short because their nasal tips are upturned. In this case, Dr. Bassichis can add cartilage to the tip of your nose, making your nose look longer.
Sometimes the space between the septum and lateral cartilage need to be extended. If this is the case for you, Dr. Bassichis will use extended spreader grafts, which are harvested pieces of cartilage, to make your nose longer.
You Have a Breathing Issue and Desire Functional Rhinoplasty
Some Dallas residents come to Advanced Facial Plastic Surgery Center desiring rhinoplasty, not for a cosmetic reason, but a functional reason. This is common amongst patients who have difficulty breathing. Reasons for functional rhinoplasty include:
Chronic nasal congestion that isn't resolved with medications
Breathing through the mouth constantly, especially at night
Frequently having dry mouth
A noticeably reduced sense of smell
Frequent, unexplained nosebleeds
Repeated sinus infections or headaches with no known medical cause
Eustachian tube dysfunction
Insomnia
Schedule a Rhinoplasty Consultation Today
These examples are just the tip of the iceberg when it comes to why patients choose to have rhinoplasty. Whether you don't like the aesthetic look of your nose or think you have a functional issue that could be resolved surgically, Dr. Bassichis would love to consult with you.
To schedule an initial appointment, call our office in Dallas today at (972) 774-1777.