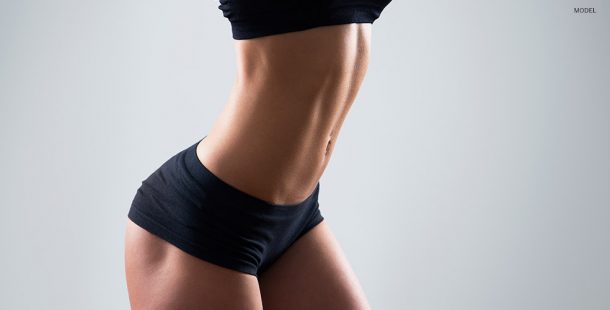 UltraShape
UltraShape is non-invasive liposuction for body reshaping. Our own Dr. Bassichis is among the first nationwide and in Dallas to offer this brand-new technology. UltraShape is painless and there is no downtime. It would be our pleasure to speak with you about this fantastic new treatment.
Is UltraShape really Non-Invasive liposuction?
Yes, it really is. UltraShape is the first and only non-invasive body treatment that precisely targets subcutaneous fat, while keeping the surrounding skin and tissue intact. Using its FDA approved Ultrasound technology, UltraShape can be used to help average to overweight men and women acquire an improved body shape and contour.
How is UltraShape different from other lasers?
Unlike other body shaping technologies, UltraShape uses a mechanical effect to destroy fat cells without inducing thermal damage. This unique feature of the UltraShape technology results in a safe and comfortable treatment experience without bruising, swelling or downtime. With UltraShape, we are pleased to offer our patients non-surgical liposuction-like results. This innovative technology uses gentle, focused ultrasound to kill fat cells without damaging the skin or causing pain. And best of all, there is no downtime for this fat destroying therapy.
Is it painful?
No, UltraShape is not. Most of the other fat burning lasers cause treatment discomfort and burning, however, UltraShape is painlessly effective. Just the way the ultrasound used for other medical reasons, such as pregnancy, is painless – so is UltraShape. Liposuction was the number one cosmetic procedure performed in the US, with over a million surgeries performed in 2013. However, many individuals do not want to have traditional surgical liposuction due to fears of anesthesia, complications and a painful, lengthy recovery. UltraShape not only alleviates these fears, but provides safe effective treatments without long, painful recuperation.
What can be treated with UltraShape?
UltraShape can be used for average to overweight men and women acquire an improved body shape and contour. As a clinically proven non-surgical alternative, it can effectively reduce of localized fat deposits in the abdomen, thighs ("saddle bags") and flanks ("love handles"). After just three in-office treatments, given every two weeks for six weeks, our patients experience a circumferential reduction in fat.
---
*WE'RE SORRY! We are currently updating patient photos for this specific procedure. Stay tuned for beautiful, natural, and ACTUAL results. In the meantime, please call 972.774.1777 to inquire about additional details regarding this procedure.*